Loves art as a hobby. I paint for fun, and love to transform everyday objects into something new. The two maze-bots below were originally headphone cases. The pair on angel wings actually spruced up one of my tables. Some of these pieces featured in my school art gallery. But my favorite art is different.
I am a doodler, and my hands are both my tools and my canvas. I draw on them often. I understand biology and want to be a doctor, so I know that under the skin on my hands, I would find tendons, blood, muscle, and bone. But, when I draw, my hands are transformed into anything I want. Some days, I feel strong, resolute, and my drawings show my forearms armored with metallic plates and computer wires. Some days, I am vulnerable, and my dorsum is drawn into a shattered glass, revealing the soft, delicate workings beneath. Some days, I am excited, and my phalanges sprout reaching vines and bountiful blooming flowers. Some days, I am a dreamer, and I am covered in intricate swirling designs from my clavicle to my fingertips, as far as I can reach. My friends have become used to my doodles, and look forward to seeing it change every time, especially since (for them) I draw jokes across my palms, or funny characters on each elbow. However, many people seeing them for the first time ask why I would draw on my hands, instead of a regular book or paper. My answer is twofold. First, the art on my arms is ephemeral, and can therefore change at the same pace that I do, as a learning, growing human being. Secondly, art on my arms is public, and can be seen and commented on by the people I spend time with or around. That way, others can know how I feel, since my h-art is literally on my sleeves, and I can improve my doodles based on the compliments, criticisms, and input I receive. These concepts are mirrored in my daily life. I want to be transparent so that others can understand me, I want to be constantly changing so I can be constantly improving, and I want to be beautifully impactful so that I can make objects as ordinary as hands something special.
Powered by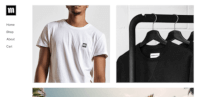 Create your own unique website with customizable templates.